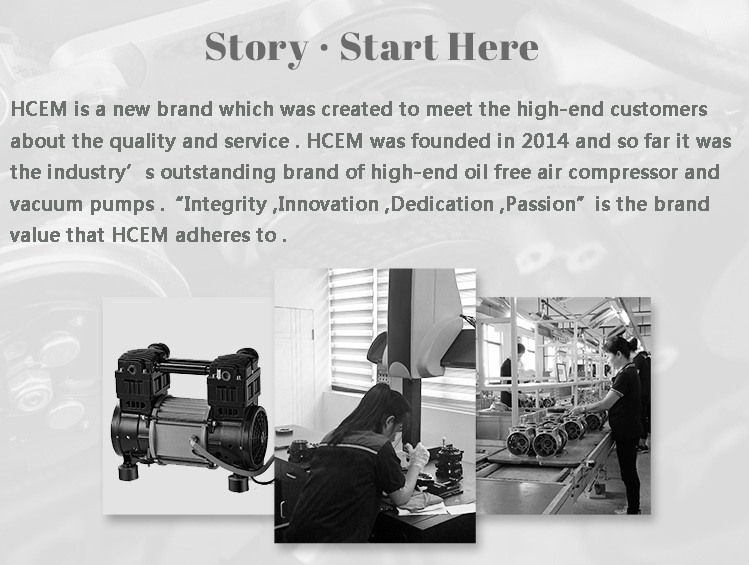 WELCOME TO HCEM
Established in 2010 in Zhejiang ,China , HCEM is specializing in R&D and manufacturing various kinds of oil free air compressor and vacuum pumps (AC and DC series ) , with several agent worldwide , include USA , Korea , Brazil etc.
Our primary focus is in the development, manufacturing and marketing . Whether prototype development, series products or custom systems are required, we have engineers that are ready to analyze customer requirements ,and help customers to make the development projects and implement solutions.
Our professional engineers with 20 years rich experience on custom development and research to explore new products in the field of air compressor and vacuum technology , we believe that it can help you to lead the market.
All our products carry a standard two years warranty. In addition, some products have extended warranty, up to three years or five years . Consumable parts, like piston ring and cylinder, will not be covered by this warranty, but replacement parts can be purchased from us.
Recent years we extended our products into Automotive tools industry (include the New energy vehicles) , Railway equipment , Chemical industry, Aerospace industry, Food Industry ,Oxygen concentrator , Dental Clinic and Lab ,Vacuum Packaging ,coating fields,etc . Using our high tech knowledge to develop and service oil less motors, quiet air compressors, suction units, and others.
Our mission is to tackle innovative challenges in advanced technology and to help people and their environments by providing high-quality equipment, resources, and technical know-how. We value professionalism, and seek to forge partnerships in both the public and private sectors.
When a customer chooses one of our air compressor and vacuum pumps, he or she benefits not only from best-in-class energy efficiency and reliability. The customer also profits from our vast experience in compressor & vacuum systems, and from HCEM Service – comprehensive on-site and off-site consulting and service.
As we enter a new age of business, we'll remain focused on our commitment to sustainability and creative design. We'll never stop working to provide a remarkable shopping experience and service to our customers.